I have always loved the idea of a cage bra..
They just look so amazing, but alas with my size bust I pretty much gave up... all those straps only and no support....yikes
But enter one of my all time favourite bra makers, Ewa Michalak..
and their new Biustonosz SM Ty wiesz Bra.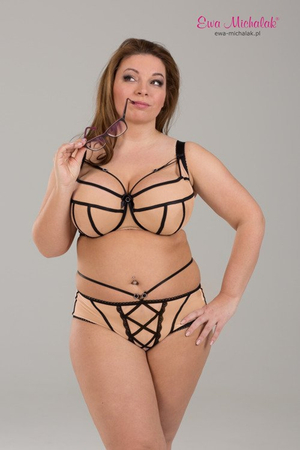 As I have mentioned previously on my blog,
Ewa Michalak
is a Polish bra brand. It has some gorgeous designs that offer possibly, the widest range of sizes ever. There are too many to list, honestly just pop by their website and have a look.
Click on the little English flag at the top to get the English version.
They ship all over the world, even all the way down here to Australia.
When I saw the new Biustonosz SM Ty wiesz Bra. There was no question, I had to get it.
It was $69 aud
($189 polish zloty)
As per their normal standard, it was well made and fit like a dream.
It is pretty much perfect.. all the look of a cage bra without the lack of support.
In Ewa Michalak bras, I wear a 40G.
I used their
measure guide
and they have always been pretty spot on for me.
I would recommend going by what suits your body and the guide.
The cups are made of a soft, stable peach toned tulle to give that total sheer not there effect. All the edging is highlighted with black trim. The cups are a three part construction that helps create that lovely rounded shape that works so well with my bust.
There are two extra straps that run over the top of the bust. They have a little sparkly details and are adjustable. This creates an added built in harness look to the cage bra, which I love.
It also has a cute little sparkly detail on the centre gore with a small bow.
The back band is a solid peach toned stretch fabric which provides great support. The straps are nicely wide and fully adjustable. I do also have to say that I loved the little detail of how the straps split at the back. It just adds to the look.
The bra closes with a standard three hook and eye closure.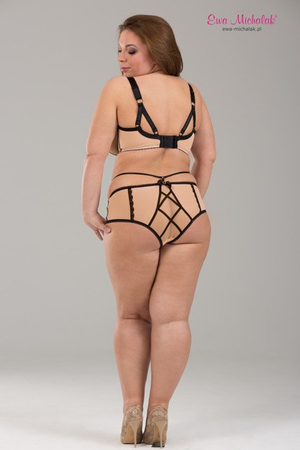 So my verdict...
I LOVE it..
It is super comfy, looks hot as all hell and gives me a look I wanted, that I previously had quite a bit of difficulty finding. I did get the matching knickers as well, they are very similar, cute and very sheer at the back, so just keep that in mind.
I just love how it can peak out from under an outfit and add to the whole look.
Who says underwear can't be outer wear too ?!!